Why are most children's books full of beautiful visuals and colorful pictures? Because humans are visual beings, and pictorial content is always more impactful and memorable than textual. How about using this power of visuals in teaching to educate, engage, and inspire students?
Visual content can help students digest huge chunks of course materials easily. They also function as great memory aids. Additionally, striking visuals and engaging presentations help students grasp concepts quickly. It also makes learning a lot more fun and effective.
Here are some tips and tricks for teachers on how to make learning a fun and exciting experience by using visuals and presentations.
Top 10 Techniques to Make Learning Fun Using Visuals and Presentations
1. Photos and Pictures
There's a reason why photographs are so loved! Photos and pictures can be powerful instructional tools to drive learner engagement. They can reduce students' cognitive load and enhance their learning experience.
However, make sure to use appropriate and memorable images that are in sync with the subject at hand. While photographs simplify the learning process by several notches, excessive use can hamper the overall experience.
2. Use Themes That Reflect Your Core Message
It's not enough to just fill your presentation slides with colors, shapes, and images. The theme should be reflective of the lesson or topic in question. For example, if it's a lesson on geography, slides with a subtle background of a world map might help aid memory and understanding. And if the subject leans towards science and technology, you could use a template with pictures of math symbols, apparatus, or rockets.
Platforms like PosterMyWall offer online classrooms where you can create free classroom accounts. They offer a great collection of templates and slides that are free to download, edit, and customize. You can choose an impactful theme that is in line with your core message while being visually pleasing.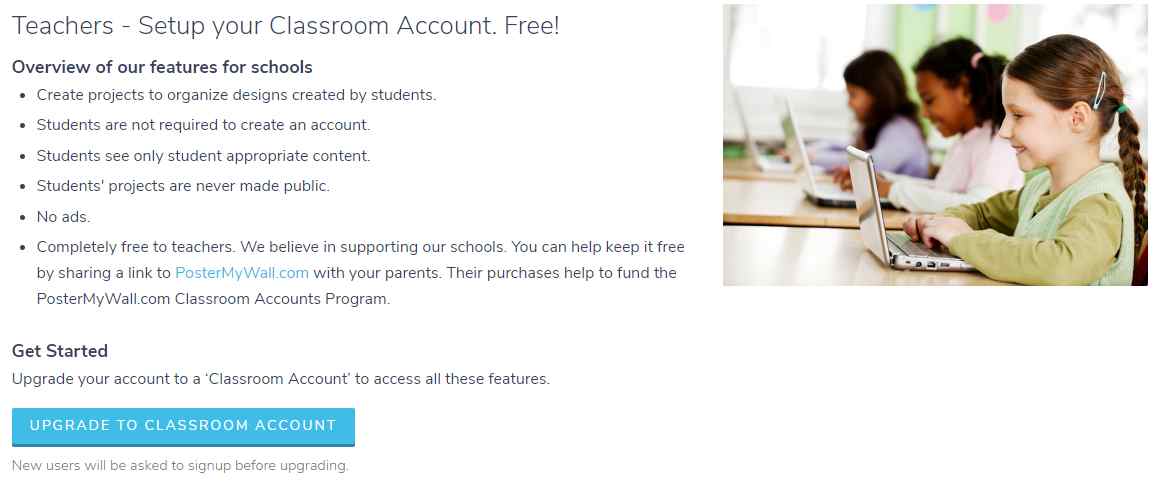 3. Cartoons and Comics
Be it children or adults, cartoons have always served as a universal language of communication to drive home a point. Hence the popularity of animations and motion graphics.
You can use cartoons as icebreakers for certain lessons, initiate a classroom discussion, or even explain a particular example. For young children, cartoons can be used to suggest captions or to match captions with a given set of cartoon pictures.
Or, you can use them as mediums for children to showcase different events or study different cultural and social behaviors.
4. Break Long Notes with Infographics
From simplifying complex analytical reports to telling a story, infographics serve a wide range of purposes. They are popular communicative tools that are not just visually attractive but often simple to grasp.
A combination of texts and graphics, infographics can help liven up boring lessons. You can also use infographics to break up a long and heavy subject into interesting chunks. Make sure to keep it simple and minimal by only highlighting major points of the lesson.
5. Charts and Graphs
Charts and graphs are the most sought-after visualization techniques that never go out of style. There are excellent learning tools that can effectively explain complex data and statistics in simple ways.
You can use charts and graphs to associate different concepts and ideas or to identify hidden trends and patterns. There are some common forms of charts and graphs.
Flow Charts
You can use flow charts to concisely map out the steps of a process in a sequential manner. Whether it's steps to write an essay or to solve a math equation, flow charts can help in visualizing the conditional results of a multi-step process.
Pie Charts
Pie charts represent data in circular graphs where each slice represents the relative size of the data.
Bar Graphs
Bar graphs or bar charts present data in rectangular bars with heights and lengths that are proportionate to the values ​​they represent.
Pyramid Chart
Shaped in the form of a triangle or a pyramid, these are great for presenting hierarchical data.
6. Icons and Illustrations
Icons and illustrations can help learners understand heavy concepts. Illustrations can be used to describe different parts of an object in detail. For example, parts of a complex machine.
Icons can group content into easily digestible or scannable forms. For example, you can use attractive icons instead of bullet points. This is a simple way of adding an element of interest without much effort.
7. Animated GIFs
GIFs are not limited to funny cat videos or catchy dance numbers.
You can insert funny GIFs in serious presentations to lighten up the situation. Or you can use them to emphasize a particular point in an interesting manner. They are more impactful than photographs but don't take up as much bandwidth as a video.
8. Characters
Humans are social animals. So any data presented in a humanized form is more relatable than voices or texts. Characters can be included in various ways to illustrate a point. You can use them to create visually pleasing quizzes or create stories to drive home the concepts better. You can even incorporate them in a fun educational game.
Moreover, using characters in eLearning courses can help create a sense of familiarity in students since it feels identical to being taught by a mentor or an instructor.
9. Videos
Videos are riveting mediums to keep viewers enthralled for longer periods. People are now more receptive to consuming content in video formats instead of reading or listening to audio.
Not only do videos encourage easy understanding of lessons, but they also add an interesting element to a class by breaking up the monotony. Whether it is educational animation or live-action videos, grab attention and promote engagement, thus breathing life into dull content.
10. Mind Maps
A mind map is a diagram that represents tasks, words, or ideas revolving around a central concept or subject using a non-linear graphical layout. They are known to enhance the memory and stimulate the creativity of students.
Though interesting in their own sense, you can make the process even more exciting by using images and pictures instead of texts. You can also use certain eye-catching color-coding to help students recall a piece of information better.
Conclusion
Now that we've explored some of the ways in which you can use visuals, you can use them to engage your students and see better academic performances. If you're looking for a platform to provide teaching service, you can consider choosing PosterMyWall. On PosterMyWall, teachers create projects, organize student designs, and allow students to create posters and diagrams to aid learning.