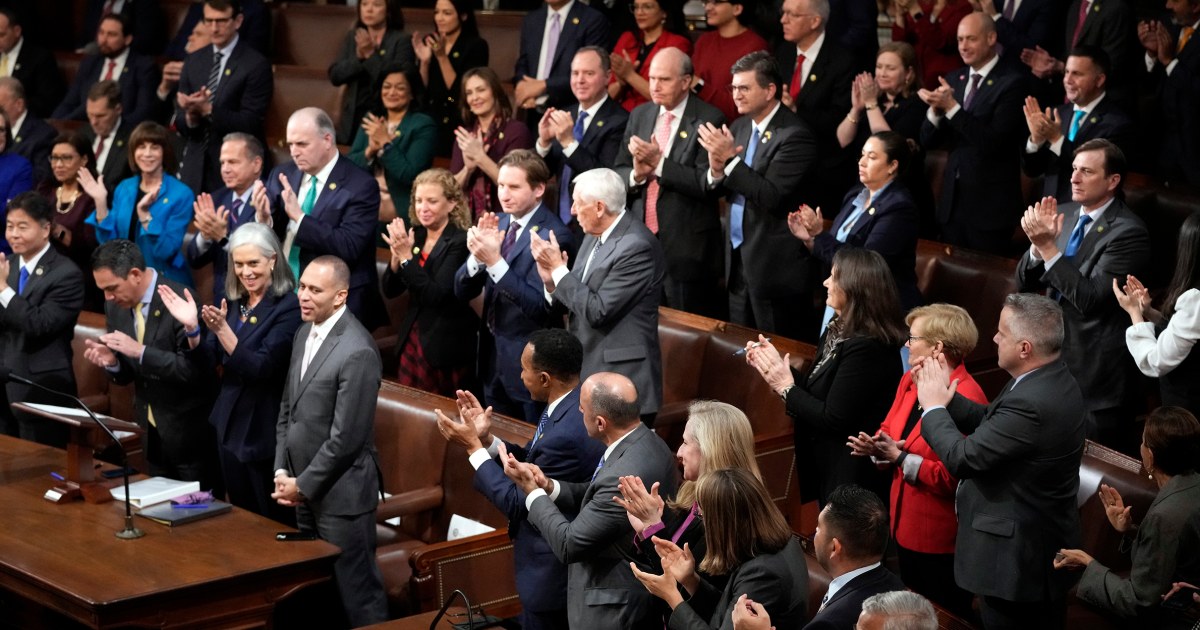 Through the end of business hours on Friday, GOP Rep. Kevin McCarthy had lost 13 straight votes for speaker of the House. Florida Rep. Matt Gaetz, part of the ultraconservative Freedom Caucus, sneered that McCarthy, who had moved his things into the speaker's office, was an illegitimate squatter, Texas Rep. Dan Crenshaw called Gaetz and his holdoutschildish,
It had felt all week like we were just a few insults away from C-SPAN carrying a live food fight on the House floor. And indeed, McCarthy finally prevailed after midnight on Saturday, on the 15th round of voting — but not before a literal fight almost broke out between Gaetz and a Republican colleague.
The growling and whining (and scuffling) of the GOP has, understandably, been the focus of most news coverage and commentary. The GOP's self-immolation has been remarkable to watch. But so, in a quieter way, has been the Democrats' discipline.
Vote after vote, hour after hour, the Democratic minority cast its ballots for the conference's leader, Rep. Hakeem Jeffries of New York. And as a result, Jeffries won vote after vote for speaker, though McCarthy finally pulled ahead on Friday.
The Democrat's quiet competence and unity is a stark contrast not just to GOP fecklessness, but to the Democrat's own modern image. For Yearsthe news media has run headlines blaringDemocrats in disarray,
Democrats are engaged in a perpetualcircular firing squad," Business Insider wrote in 2010. "Democrats are having a unity problem," NPR said in October 2021, "That's familiar territory for them." Last month Politico ran a Democrats in disarray article because some Democrats were less than enthusiastic About Rep. Jim Clyburn staying in leadership. And just this week there were (false) reports that Democrats were getting bored of the House leadership contest, and might just abandon the fight, allowing McCarthy to win.
Just this week there were (false) reports that Democrats were getting bored of the House leadership contest, and might just abandon the fight.
Democrats do have real internal ideological and personal disagreements, as do most political parties. In the Senate, conservative Democrat Joe Manchin of West Virginia and former Democrat, now independent, Kyrsten Sinema of Arizona spiked large portions of President Joe Biden's agenda. Many progressives criticized Biden's administration for what they saw as his lackluster policy response to the Supreme Court's repeal of a constitutional right to abortion. Democrats sometimes criticize each other in contested primaries.
But there is a huge difference between this normal, healthy political jockeying and the tensions and divisions currently roiling the Republican Party. Many in the GOP now live to spew venom at the party "establishment." Before it decided to deny McCarthy the speaker's gavel, the House Freedom Caucus prematurely ended the speakership of John Boehner, It then effectively knee-capped the leadership of his successor, Paul Ryan, who resigned as soon as he could.
And those fights look like minor skirmishes compared to the intra-GOP animosity unleashed by Donald Trump. Remember that in 2016, Trump claimed that presidential primary opponent Sen. Ted Cruz of Texas was the son of a man who aided in the assassination of President John F. Kennedy — an ugly, racist conspiracy theory with absolutely no basis in fact. And after his 2020 loss, when his own vice president, Mike Pence, refused to overturn the election on his behalf, Trump expressed support for having Pence hanged,
There are plenty of other examples. Georgia Secretary of State Brad Raffensperger was deluged with death threats from other Republicans after he refused to illegally overturn the state election results at Trump's behest. Missouri Republican Senate candidate Eric Greitens run an ad in which he "hunted" people characterized as less conservative Republicans. It's no wonder Republicans are having trouble showing unity on the House floor.
But why, then, is "Dems in disarray" still such a powerful narrative?
But why, then, is "Dems in disarray" still such a powerful narrative?
Part of it is probably the (almost too simple) fact that "Democrats in disarray" is alliterative while "Republicans in disarray" is not. Part of it may be that the Democratic coalition is large and diverse, while Republicans are largely the party of aging white guys, Like most institutions, the media is subject to biases and stereotypes, and may sometimes semi-unconsciously assume that racial homogeneity automatically leads to greater unity. Part of it is that humans crave drama, or, at least, the perception of it. And the law or "both sides" media coverage dictates that if the GOP's problems make headlines, there must also be coverage of Democratic problems — even if there isn't an equivalence, even if one side is a ludicrous, backstabbing partisan mob.
Democrats, meanwhile, put aside their differences to unify around Biden in 2020 and again in 2022. And every member of the House caucus, from the anti-choice reactionary Henry Cuellar to the democratic socialist Alexandria Ocasio-Cortez, has voted over and over and over and over for Hakeem Jeffries of New York for speaker. They've remained focused on exposing Republican divisions. This as Republicans, too, have been focused on exposing Republican divisions.
Unity isn't everything. Democrats can vote as a bloc from now until this Congress is over, but they simply didn't have the numbers to elect Jeffries as speaker. And yet, Democrats are often accused of being useless and feckless, and of being more interested in internal squabbles than in uniting for common goals. With every vote in the House this week, they've shown that criticism to be overstated.